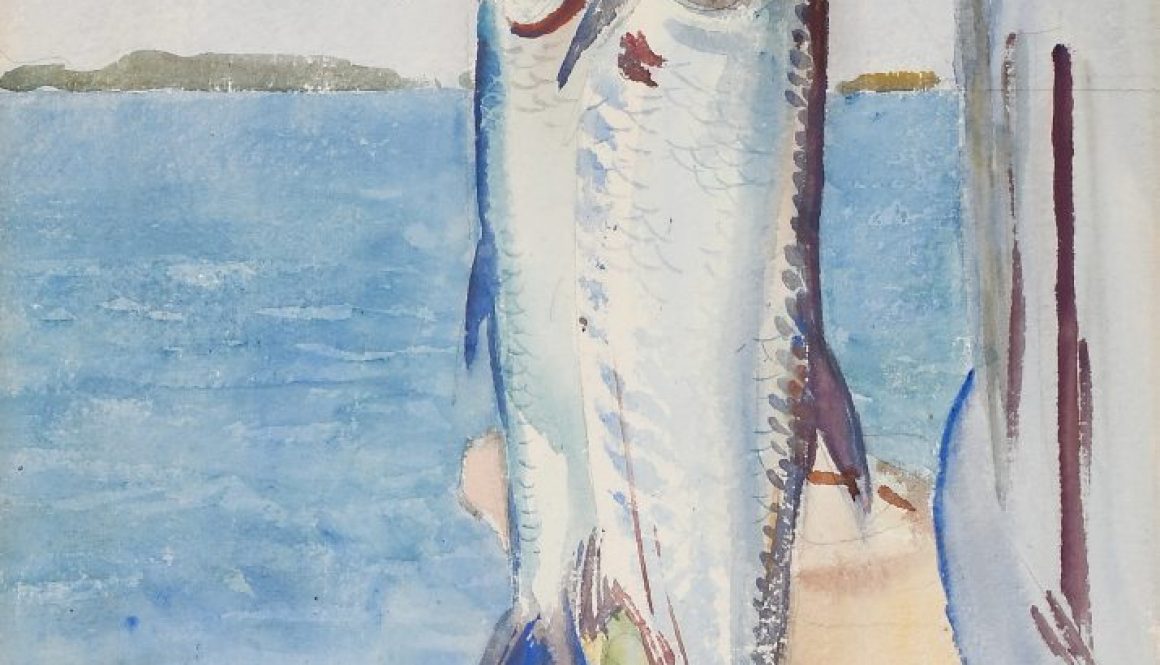 In 1917, John Singer Sargent was staying as a guest at Vizcaya, the work-in-progress villa being built for James Deering in Miami.  It presented almost infinite opportunities for painting, which Sargent took full advantage of and had no intention of leaving for some time.
When James and his brother Charles invited Sargent on a fishing trip aboard the Nepenthe, James Deering's 80-foot steam yacht, he somewhat reluctantly agreed.  As they steamed through the Gulf of Mexico, America's greatest watercolorist was roused from the monotony of those sultry days by a very big fish.  He managed to land the only Tarpon on the three-week excursion.  No amount of painting could have prepared him for the fight in a six foot 10-inch-long fish, and he complained afterwards about his aching muscles.  Being Sargeant, he of course sketched and painted the 140-pound Tarpon hanging next to the yacht and sparkling in the afternoon sunlight on the Gulf of Mexico.
A pencil drawing of the subject, with notations on size and weight, is in the collection of the Fitzwilliam Museum in Cambridge, England.  Sargent's important watercolor of that magnificent fish has been in private collections since 1923, and is now being offered for sale on November 17th, by Brunk Auctions in Asheville North Carolina.  Lot #1672 can be viewed at https://www.brunkauctions.com/lot/john-singer-sargent-3893710.
The full catalog is available online at https://www.brunkauctions.com/auctions/upcomingwww.brunkauctions.com. For a private viewing prior to auction or for more information on bidding, please contact Brunk Auctions at 828-254-6846 or info@brunkauctions.com.